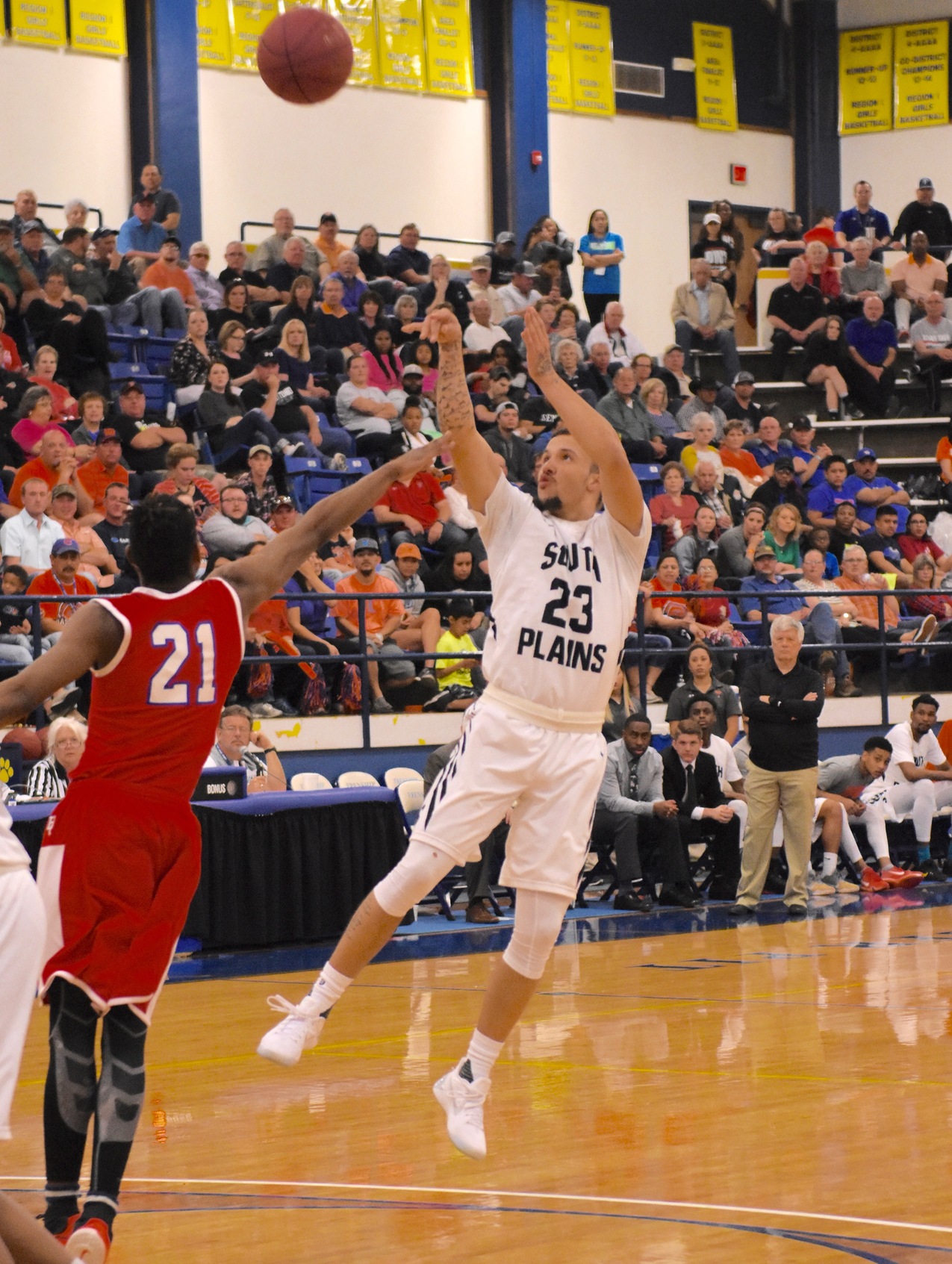 WOLFFORTH—Grantham Gillard liked his chances.
With Hill College dead-set on stopping the Texans' dynamic offensive attack and shutting down the likes of leading scorer Jordan Brangers, something had to give – And it did.
Gillard scored 13 points in the second half knocking down a trio of 3-pointers within a six minute span as the top-ranked South Plains College Texans downed the Rebels 100-78 in the opening round of the Region V Tournament on Thursday at the Tiger Pit.
"I was just trying to play basketball," Gillard said. "I have great teammates who found me when I was open and I just shot the ball. Coach Green tells me to shoot it when I'm open and I just tried to look for the best shot. Everyone on the team can play. Jordan is a good player and teams are going to try and guard him, but we have other players on the court who can shoot the ball and find ways to score."
Gillard finished with a season-high 22 points as the 6-foot-4 guard from Minneapolis was 7-of-13 from the field and 6-of-11 from the perimeter. Jordan Brangers and Jahlil Tripp each finished with 16 points while Roberto Gallinat chipped in 12 and Josh Webster pitched in 11 points and eight assists.
"Grantham played big and hit a lot of 3s for us," Tripp said. "That's what he does. He stretches the floor for us at the four spot and Roberto is a terrific shooter just like Jordan, so when they collapse on him we found our other shooters and they were there for us tonight. They think if they take Jordan out of the game we can't score, and as everyone saw tonight that's not the case."
South Plains(29-0) shot 51 percent in the first 20 minutes and led 50-40 at the midway points thanks to a Gillard 3-ball which capped off a 9-2 run to end the first half. The Texans came out with a vengeance early in the final frame as Tripp found the net with consecutive layups to extend the Texans' lead to 58-43 with 16:10 remaining.
Following a 3 from Hill's(18-12) Antanee Pinkard which cut the lead to just eight with 13:06 to play, Gillard found his stroke.
Webster kicked it out to Gillard on the right wing and Gillard buried the trey to put the Texans up 63-52 with 11:47 remaining. The duo would hook up yet again as Webster stripped the Rebels' Shamar Bailey and found Gillard on the other end for an easy bucket in transition.
Gillard would then sink a pair of 3s, the second coming with 8:40 left in regulation, extending the Texans' lead to 73-57. A steal from Tripp which was dished off to Webster and back to Tripp above the rim for an alley-oop sent Texans' fans into a frenzy and South Plains into the semifinal round against Western Texas at 8 p.m. on Friday night.
"Grantham can really catch and shoot," South Plains head coach Steve Green said. "He's been playing well the last couple of games, and hopefully he'll take us on a roll and take us a ways. They went back and forth between man and zone to try and keep us confused. We have some guys that can drive, and it makes it easier when you can drive the ball."